Interview with Yash Bhatia of India: contest winner joins Global Dialogues team
---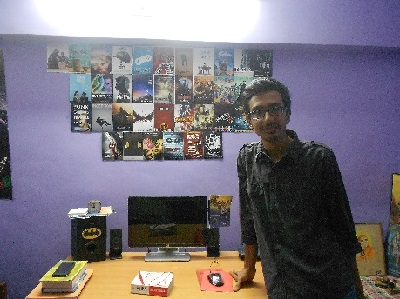 At Global Dialogues, we consider ourselves extremely fortunate. Over the 18 years of our work to date, we have had the opportunity to get to know remarkable individuals who have agreed to join us in the GD family. One such person is a talented young author named Yash Bhatia of India, one of the 20 international winners of the 2014 Global Dialogues free story writing contests and now a much appreciated member of our team. This week Yash kindly took a moment from his busy schedule to be interviewed by Daniel Enger, Executive Director of Global Dialogues.
"Tell us, please: who is Yash Bhatia? What are your great passions?"
I live in a small, beautiful corner of India in a city called Vadodara. I'm currently a second-year student of Bachelor of Arts with English Literature as my core subject. I love reading, writing and watching movies. I'm probably the biggest pop-culture geek my friends and family have seen so they have a hard time when I excitedly make Star Wars references in the most random of situations. I write because it takes me to a place where I feel completely free.
"The 2014 Global Dialogues international jury enthusiastically praised the narrative you wrote last year. What's the story behind that story, Yash?"
I first heard about this contest on Twitter. The topics immediately hooked my attention because I felt there was a story in me that was waiting to be told. The Supreme Court of India had penalized homosexual acts and deemed them 'unnatural' and thus punishable by law. The opinions that arose both for and against it entirely dominated the news in December 2013. The turmoil and questions of equality that arose in my mind then shaped up the story. In a way, the story told itself to me.
The process of writing the actual story was a very challenging process, and equally satisfying. I would not have even sent it to Global Dialogues had it not been for the unshakable support of people close to me who praised my audacity of being able to tell the story of a woman who falls in love with a woman. The odds she (the main character) faces in a society like ours seem insurmountable, but by finding acceptance from a loved one, she (and hopefully the reader) comes to visualize a brighter, more hopeful future for sexual diversities.
"What was your reaction, as well as that of those close to you, when you learned that you were among the 20 international winners? What has this success meant to you?"
My first reaction to the news of winning was of utter disbelief, which quickly changed to exhilaration and then gratification of knowing that my voice had found an audience. This success of being among the select 20 international winners still means the world to me, because now I started to look at writing as something that was more than a whimsical hobby and it helped me cultivate belief in myself. My family and friends were overjoyed and have continued to nourish me with their faith.
"You are taking the lead in bringing the 2015 contest to young people in your area. What does it mean to you to be involved in Global Dialogues in this way?"
The folks at Global Dialogues were generous enough to give me a chance at mobilizing participants from my area and community for the 2015 contest. I seized this opportunity as there are a great number of young writers whose stories are struggling to find a voice and want to reach out.
"In your opinion, why should young people consider taking part in the Global Dialogues story-creating contest? What's the point?"
The sheer power and will of the youth in a country like India is something no authority can ignore. If we are to look forward to a good change and a better, more tolerant society, it is the young people who are primarily responsible for carrying the proverbial torch forward. My encouragement to others to join the contest is based on this idea.
"You will be representing Indian youth at the Global Dialogues international jury in Atlanta in July 2015. What are your thoughts on this?"
I am absolutely thrilled and honored beyond words to be representing Indian youth at the Global Dialogues international jury in Atlanta in July. I feel that this is an exceptional opportunity for me to converse with an enlightened group of individuals who have gathered from all over the globe and learn about the efforts this organization ceaselessly pours into spreading awareness on health, peace and equality. I cannot thank Global Dialogues enough for this, and I'm waiting for it with optimistic anticipation.