1997 GD contest winner now a powerful woman in law leadership
---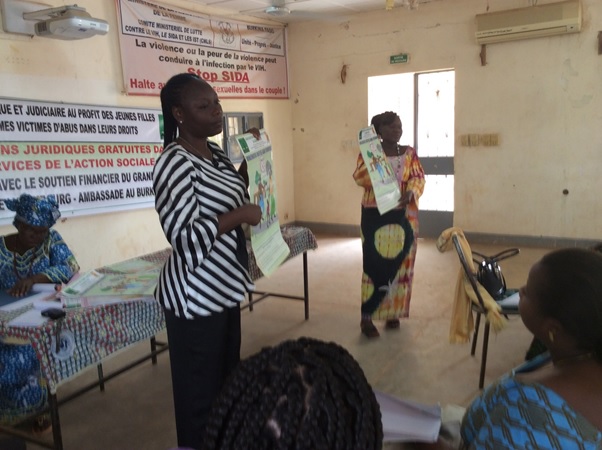 Born some 18 years ago, Global Dialogues is built upon the strongest possible foundation, namely a team of carefully selected people of remarkable passion, compassion, professional excellence, partnership orientation and integrity. Today, we proudly highlight one of these people, a winner of the first Global Dialogues contest in 1997 who has become a powerful advocate for the rights of girls and women:
"My name is Julie Rose Wend Zoodo Ouédraogo, and I'm from Burkina Faso. I'm the oldest of five kids in my family – 3 girls and two boys. Unlike many girls in my country, I had the good fortune of going to school as a small child and making it all the way to obtaining a degree in Law from the University of Ouagadougou. Today, I'm married and have two kids of my own. I am a judge by profession, starting my work in that capacity in 2005 and, since 2014, serving as a judge in the Appellate Court of Ouagadougou.
I remember the beginning of my journey with Global Dialogues as if it were only yesterday. (Back then, in 1997, the project was known as "Scenarios from the Sahel".) It all started one day in a classroom at the high school I was attending, le Lycée Nelson Mandela. I was 18 years old and in my final year. A school administrator asked our teacher if he could take a few minutes to tell us about a new story-writing contest on HIV/AIDS. That interested me right away, as I liked taking part in literary contests.
I took a copy of the contest leaflet and opted to write my story on my own. My text, entitled "Florida", told the story of a man living with HIV – his fears, his pain and his sense of despair. He had a relationship with a beautiful girl named Florida who was known as a person of strong moral standing. Trusting in appearances and knowing that she was a virgin, he had unprotected sex with her. However, Florida had become infected by contaminated blood and didn't know it, and he contracted HIV from her. Through this story, I wanted to help people understand that HIV can affect anyone, including those who don't sleep around. In this way, I wanted to help put an end to finger-pointing directed at people living with HIV and to avoid discrimination against them. Rather than judging them, we should give them hope and foster their love of life.
I was one of the winners of that first Global Dialogues contest in 1997, first at the national level and then internationally. Accompanied by my father, I received my international prize and a certificate, and on this occasion I met representatives of the Global Dialogues Trust [the organization that founded Global Dialogues and coordinates it internationally] for the first time.
This was the beginning of my "adventure", because from this moment, a team of national winners was set up and became a kind of a "family". We worked together in a number of activities: serving as members of a youth jury at FESPACO (the Pan-African Film Festival), drafting a booklet for young people with information on sexuality ….
Later on, I continued my adventure with the project (which had expanded in 2001 to become "Scenarios from Africa") as a member of the national jury in charge of selecting the winning stories. These were deeply meaningful experiences in terms of creating and strengthening relationships and exchanging ideas with others. It was also a chance to get know winners from other editions of the contest and to expand the Global Dialogues family.
When I help out in classrooms from time to time, I promote the contest among schoolkids, emphasizing that it's not just about the prizes, but about being part of the GD family.
Though I didn't realize it at the time, my participation in the "Scenarios from the Sahel" contest in 1997 constituted my first concrete steps in fighting against the marginalization of certain people in our society. Things took their course from there, and it was quite natural that I later became a part of the Association of Women in Law of Burkina Faso (l'Association des Femmes Juristes du Burkina Faso, AFJ/BF), which fights for the effective realization of the rights of women and girls. Presently I am the Secretary General of this association.
My mission in life is to build a world without discrimination and without violence. The law is designed to regulate life in our society and to prevent conflicts or to manage them in a peaceful manner. At the national and international levels, our countries draw up legal instruments to put an end to discrimination and violence, but people are not always aware of those instruments and thus do not demand their implementation, especially in countries like mine where so many people are illiterate.
As a judge, I contribute to disseminating knowledge and raising awareness of these legal instruments so as to contribute to positive behavior change. I do this primarily in rural areas, where I explain these legal instruments in Mooré, one of our national languages. I believe that the effectiveness of human rights in general must be based on people taking ownership of them, and to do this, it is essential that legal instruments protecting women and men must be known and understood.
Regarding HIV/AIDS, I continue the fight by supporting the awareness-raising activities of an organization that promotes the well-being of orphans and helps people affected by HIV/AIDS (l'Association des Jeunes pour la Promotion des Orphelins, AJPO).
I would like to appeal to our planet's girls to respect themselves and to have confidence in their abilities. Negative stereotypes about girls have no scientific basis. Girls should believe in themselves, develop and pursue projects in life and stand on their own two feet. Economic independence is very important, even indispensable if girls are to assert themselves in life. Girls should not live as the mere shadow of another person. Girls must not allow any person or any prejudice to rob them of their lives. Girls should take active interest in public affairs and make their voices heard.
In conclusion, I would like to say that I fight with optimism, as the simple fact that I myself am convinced of the ideas I defend is a success in and of itself. Striving for a just world starts with being just oneself."